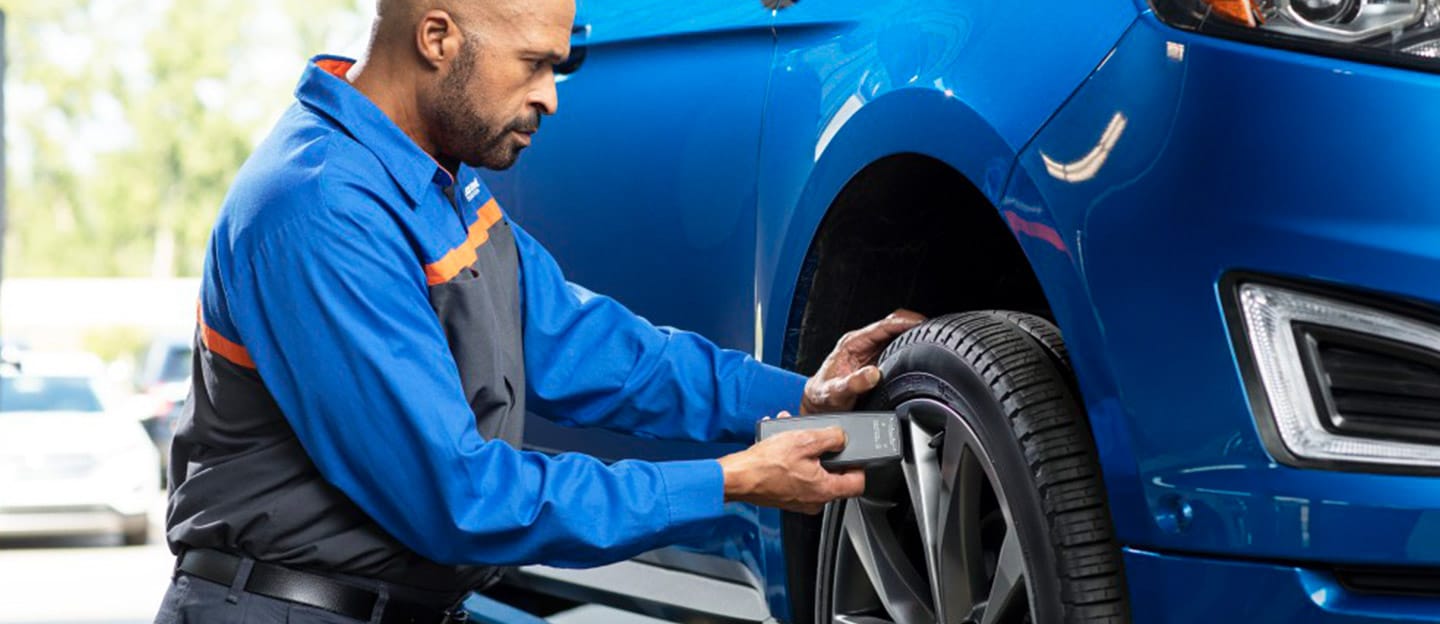 When a customer takes the Quick Lane, they get back on the road sooner. At Mathews Ford, serving Sandusky, Bellevue, Norwalk, Port Clinton, and the nearby Ohio regions, services include all the routine care needed to keep your car functioning for years to come. Maintenance and repair services are all provided quickly, accurately, and efficiently.
Quick Lane appointments are available on Tuesday and Thursday
Quick Lane Tire & Auto Center at Mathews Ford Sandusky
Serving the greater Sandusky area
Quick Lane® is your go-to place for routine auto maintenance for all vehicle makes and models. Get extraordinary service from expert technicians. Find quality parts from Motorcraft® and OmnicraftTM. And take advantage of our Low Price Tire Guarantee.
Mathews Ford Sandusky offers convenient evening and weekend hours. Visit us for trusted vehicle maintenance services covering all the essentials: tires, oil change & maintenance, brakes, batteries, alternator & electrical system, air conditioning system, cooling system, transmission service, suspension & steering, wheel alignment, belts & hoses, lamps & bulbs, wiper blades and a thorough vehicle checkup report.
(419) 609-2175
Services Provided
Quick Lane customers receive routine maintenance to keep your car running optimally, such as oil and tire changes. The maintenance can even extend the life of the parts and the vehicle in general. Plus, you'll be served quickly, saving you the hassle of having to schedule rides across multiple days while your car is being serviced.
Technicians Customers Can Count On
All Quick Lane technicians undergo extensive training before providing any service or maintenance on a vehicle.
Mechanics are transparent and always keep customers in the loop, so there are never any unexpected charges. Plus, technicians always use Motorcraft and other authentic Ford parts for maintenance and repairs to ensure the parts last.
Convenient Hours 
Mathews Ford's Quick Lane offers convenient hours, with evening and weekend time slots too, so you can get your vehicle serviced on your own schedule.
Schedule an appointment for maintenance with Mathews Ford, serving Sandusky and the general vicinity, by calling us at 877-345-3042 or using our online service scheduling tool.
Hours
Monday

8am-5pm

Tuesday

8am-5pm

Wednesday

8am-5pm

Thursday

8am-5pm

Friday

8am-5pm

Saturday

7am-12pm

Sunday

Closed